Do you have a community event you would like posted on this web site?
If you're part of a non-profit organization and have an upcoming event, we'd like to hear about it. And so would our listeners. As a free public service to our local nonprofits, we can help spread the word on your event with on-air mentions and through our websites with all three of our stations: AM 1590 KDJS; 97.3 The River; and Hot Country K95.3, along with social media. This way we can help you reach people who maybe wouldn't have known of your event otherwise. Get us all the info on your event today. Email us through the website k-musicradio.com, connect with us on Facebook or Twitter, or call the newsline at 235-2900
Lutheran Social Services of Minnesota is seeking individuals and couples who can serve as foster parents to children and youth. Ideal foster parents have compassion for kids and are open to caring for children from different backgrounds. Professional training and ongoing support is provided. A monthly, non-taxable reimbursement is also provided to foster parents. Call Lutheran Social Services at 320-424-3859
NAMI Minnesota (National Alliance on Mental Illness) sponsors free support groups for families and friends of individuals living with a mental illness. Led by trained facilitators who also have a family member with mental illness, the support groups help families develop better coping skills and find strength through sharing their experiences. A family support group meets in Willmar at 6:30 on the 1st and 3rd Thursday nights, at the Lakeland Health Center, Seminar room 2 on the lower level. For more information, call 320-444-4860.
Kandiyohi County Public Health has started a new car safety seat initiative called TIKE (Toddler Info Kept for Emergencies). Emergency info can be placed on a free sticker and attached to the back of the car seat - emergency personnel can then access info about the child in the event an adult is unable to after a car crash. Free stickers are available at Kandiyohi County Public Health.
October
Pet Therapy Visits: Wednesday October 25th at 1:00 we will be at Rice Care Center and 2:00 we will be at Bethesda Grand. Wednesday November 1st at 9:00 we stop at C.A.R.E.S., 10:15 at Bethesda Assisted Living and 11:00 at Bethesda's Centennial Square. Please Join Us!! We are always looking for animal handlers. The residents truly enjoy it and so do the animals and volunteers.
Come join Mike Bliss for his high-energy, comedy magic show at the Conference for Young Artists. Guaranteed to keep you guessing and laughing. Students also will attend hands on art sessions. This conference is for students in Kindergarten through 8th grade. It is held in Marshall at SMSU on Oct. 26.You must be registered by September 27. For details call Andrea at 507-537-2257 or visit www.swsc.org
There will be a soil health field day Friday and Saturday, Oct. 27th and 28th in Benson at the Luverne and Mary Jo Forbord's Prairie Horizons Farm. Festivities kick off at six on the 27thwith a potluck meal. On the 28th attend a soil health field day from 9-2. The field day includes lunch and up-to-date information on the latest in cover crops, grazing and soil health practices. Both events are free.
There will be a Halloween Magic Show at the Willmar Public Library on Saturday afternoon, Oct. 28th from 3-3:45. This fully themed show features a colorful backdrop, special costumes, interactive theater, storytelling and comedy, and magic aimed at helping kids discover the rewards found within the pages of a book. Children may dress up in a costume. Families are invited to participate. Call the library at 235-3162 for more information.
Volunteer Training for New Shelter Volunteers: Tuesday October 31st at 5:00 p.m. Trainings are approximately 45
minutes long. If trainings are held before or after regular shelter house we need to have volunteers leave at the end of the trainings. You only need to attend one training. Families are encouraged to participate. There is also a form that needs to be filled out. Kids that are 12 years of age and older can volunteer without an adult present, but their time is limited to two hours per visit.
November
There will be a ham supper at St. John's Lutheran Church in Raymond on Wednesday, Nov. 1st from 5-7:30. Adults $10; ages 6-11 $5; ages 5 and under eat free. Takeouts are $10. Serving wood roast ham; real mashed potatoes with gravy; glazed carrots; salad; dessert; bread and beverage. All are welcome. See you at the ham supper at St. John's Church in Raymond.
The American Red Cross is encouraging donors to give blood now to help ensure a sufficient supply for patients this winter. There will be a blood drive at the Spicer American Legion on Friday, Nov. 3rd from 1-7; a drive on Monday, Nov. 13th from 12:30-7 at the Assembly of God Church in Willmar; and a drive that same day from 1-7 at the Prairie Lutheran Church in Fairfax. Call the Red Cross at 651-291-3290 for more information.
The second annual BOOYAH dinner at the Harvest Community Church in Willmar is planned for Saturday, Nov. 4th from 4:30-6:30. The menu is Booyah, chili, cornbread, rolls and dessert. This is a fundraiser to raise money for programs at the church. Booyah is a type of soup filled with numerous vegetables and meat. Call 235-2106 for more information.
Let's Go Fishing will have its first annual cake auction on Saturday, Nov. 4th at the Willmar Community Center. The doors open at 9:30, with auction and sales from ten to two. There will be a live auction of cakes and specials, specialty live bid items, outright sale baked goods, silent auction baskets, lunch and concession. There are also kids activities.
Kandiyohi County Public Health will have an immunization clinic on Monday morning, Nov. 6th from 10 to noon in the Health and Human Services Building in Willmar. No appointment needed. Bring an up-to-date record of all past immunizations. No one will be denied due to inability to pay. Children under 18 must be accompanied by a parent or guardian or have proper written consent. Call 231-7800 for more information.
The annual Harvest Festival of the Central Minnesota Christian School in Prinsburg will be held at the high school on Saturday, Nov. 18th from 4:30-8:30. Ham supper or light meal at the Snack Shack. Rolls or baked goods at the International Bakery. Candy from the Sweet Shoppe. Bring the kids, they will have a blast in the Kids' Carnival. Shop the live and silent auctions. The live auction starts at six. Call 894-3460 for more information.
There will be a meeting on what is a fair and profitable farm rental agreement on Wednesdayafternoon, Nov. 22nd at 1:30 at the Mid Central Research and Outreach Center in Willmar.Landlords, Farmers, and Agri-Business Professionals should make plans to attend this meeting, which is put on by the University of Minnesota Extension.  Topics covered at the meeting will include local historic and projected farmland rental rate trends, current farm land values and sales, and a worksheet that will help determine a fair rental agreement.  Input costs for 2018 will be presented along with current 2018 corn and soybean prices. 
View all adoptable pets (photo's & bio's) with the petfinder

Pet of the Week
Say Hi to Blossum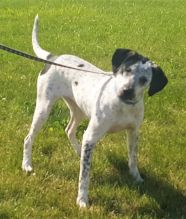 Pointer
Young • Female • Medium
Hawk Creek Animal Shelter 
Willmar MN
If you're not a member of the Humane Society, consider becoming one. There are several membership levels. Memberships help provide care to the animal that comes into the Hawk Creek Animal shelter, and helps run programs that benefit people and animals. The shelter is open Tuesday through 
Friday
 from 
noon
 to six; and Saturdays and Sundays until four. Call 235-7612 for more info.
Through a grant from the ASPCA, we are looking for help with the Adoption Ambassador program. The Adoption Ambassadors program gives adoptable animals a better chance at finding homes by engaging folks as adoption counselors and foster parents at the same time. It lets adopters get more detailed information about an animal's behavior in a home environment and improves quality of life while awaiting adoption. Of course, we will continue to have our more "traditional" foster parents and hope that more folks will join us in that so critical role. Fosters are needed badly to help save lives and we can find the perfect fit for anyone who is interested! Give Bobbie a call if you would like more information or would like to be a part of this program.