Do you have a community event you would like posted on this web site?
If you're part of a non-profit organization and have an upcoming event, we'd like to hear about it. And so would our listeners. As a free public service to our local nonprofits, we can help spread the word on your event with on-air mentions and through our websites with all three of our stations: AM 1590 KDJS; 97.3 The River; and Hot Country K95.3, along with social media. This way we can help you reach people who maybe wouldn't have known of your event otherwise. Get us all the info on your event today. Email us through the website k-musicradio.com, connect with us on Facebook or Twitter, or call the newsline at 235-2900
Lutheran Social Services of Minnesota is seeking individuals and couples who can serve as foster parents to children and youth. Ideal foster parents have compassion for kids and are open to caring for children from different backgrounds. Professional training and ongoing support is provided. A monthly, non-taxable reimbursement is also provided to foster parents. Call Lutheran Social Services at 320-424-3859
NAMI Minnesota (National Alliance on Mental Illness) sponsors free support groups for families and friends of individuals living with a mental illness. Led by trained facilitators who also have a family member with mental illness, the support groups help families develop better coping skills and find strength through sharing their experiences. A family support group meets in Willmar at 6:30 on the 1st and 3rd Thursday nights, at the Lakeland Health Center, Seminar room 2 on the lower level. For more information, call 320-444-4860.
Kandiyohi County Public Health has started a new car safety seat initiative called TIKE (Toddler Info Kept for Emergencies). Emergency info can be placed on a free sticker and attached to the back of the car seat - emergency personnel can then access info about the child in the event an adult is unable to after a car crash. Free stickers are available at Kandiyohi County Public Health.
August
The Kandiyohi County Historical Society is open from 9-4 weekdays and 1-4 weekends and holidays. Adults $3; ages 12 and under and historical society members admitted free. The museum has a number of featured exhibits as well as the train engine located outside the museum and the Sperry House. The house is open by request. Stop or call the museum to set up a tour at the Sperry House at 235-1881. Come enjoy all the special exhibits.
There will be an author presentation and book signing on Thursday night, August 24th at 7 at the Kandiyohi County Historical Society. The author is Patricia Lubeck and the title of the book is 'Murder, Mystery and Mayhem in Minnesota.' The book is a small collection of early crime and punishment stories from Redwood County. After the presentation there will be a book signing. Refreshments will also be served.
Thursday, August 24th there will be an indoor rock climbing gym event for all ages. It's at the Prairie Woods Environmental Learning Center from 4-5:30, with participants to meet at the main building. Beginners can learn about the sport of rock climbing, exercise and have fun. Experienced climbers can come train and refine their skills. Equipment will be provided. See you at the Learning Center on the 24th.
There will be a Little People Storytime at the Willmar Public Library on Thursday morning, August 24th from 10-10:30. Call Community Education at 231-8490 to register. Immunizations required to attend class. On Friday afternoon, August 25th from 3:30-5, what the movie about Travis and his sister, Whitney, who visit their grandparents for the summer and stumble upon the evil plan of a greedy land developer, and how they're able to help their grandparents. Call the library for more information.
The Willmar Public Library will have a reading by design story hour at the library on Friday morning, August 25th from 10-10:45. The children will learn how to build a project. Family Story Hour is a program for children of all ages, featuring books, music, movement, science activities, fingerplays, and crafts to encourage literacy skills. Storytimes is an integral part of early literacy education. Call the library for more information.
The Teen Summer Reading program at the Willmar Public Library runs throughout August 25th, as does the Read Down You Fines. Get one dollar off your fines for every 15 minutes you read. This is for ages zero to 18. Stop by the Children's or information desk for more information. Also take part in the Teen Hangout that runs August 11th. Call the library for more information.
PARADES
The last hurrah! the Raymond parade is Saturday  August 26th at 1:00. We are looking for people who are willing to transport a shelter dog to the parade and back to the shelter when the parade is over. If it gets too hot that day for the dogs, we will have walkers only carrying banners and handing out doggie bones. Check Hawk Creek Animal Shelter Facebook page on that day. Contact us at the shelter so we know you are coming or if you want to help with a shelter dog.
There will be a Mark & Bonnie Westfield family benefit on Saturday afternoon, August 26th from 1-6 at the Clarkfield Lutheran Church in Clarkfield. In January Bonnie had 3 strokes that resulted in a 5 week stay so far at North Memorial Medical Center. She started a new job 4 days before she had her strokes and they are unsure if and when she will be able to return. Money is being raised for medical expenses and travel expenses. Free Will Donation for a meal of BBQs, Hot Dogs, Chips, Bars & Beverage; Bake Sale; Silent Auction; Quilt Raffle.
Boy Scout Troop 228 of New London will celebrate 70 years of being chartered and will give tours of their scout hut during a community event, Sunday afternoon, Aug. 27th from 1-4. The community is invited to attend the celebration, which will be held at the scout hut's new location next to Peace Lutheran Church. Refreshments will be provided and tours will be given of the scout hut, which was built in 1886 as the town's original train depot that the troop is renovating.
Turtle Tuesday is back at Sibley State Park. Join the naturalist, a painted turtle and a snapping turtle for summer fun every Tuesday through August. This Turtle Tuesday is at an earlier time than normal. On Tuesday morning, Aug. 29th from 10-11 come to Sibley to learn about turtles, the different kinds of Minnesota turtles to the wetlands they live in. Each week will end by feeding one of Sibley's live turtles. Everyone of every age and ability is welcome! Meet in the Pond Room at the Interpretive Center. For more information call 354-2055.
September
The second annual golf tournament and fundraiser for Safe Avenues is Saturday, Sept. 30th at the Benson Golf Club. There's registration at 11, with a shotgun start at noon. To sponsor an event or to register, call 235-0475. The deadline to register is September 1st. Safe Avenues provides advocacy, parenting time services, and shelter to victims of abuse. Proceeds from the event goes to support the Swift County Outreach Office.
View all adoptable pets (photo's & bio's) with the petfinder

Pet of the Week
Say Hi to Pirate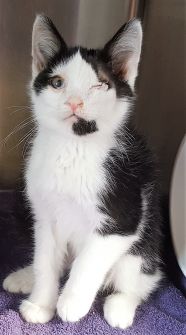 Domestic Short Hair (Black & White)
Baby • Male • Medium
Hawk Creek Animal Shelter 
Willmar MN
If you're not a member of the Humane Society, consider becoming one. There are several membership levels. Memberships help provide care to the animal that comes into the Hawk Creek Animal shelter, and helps run programs that benefit people and animals. The shelter is open Tuesday through 
Friday
 from 
noon
 to six; and Saturdays and Sundays until four. Call 235-7612 for more info.
Through a grant from the ASPCA, we are looking for help with the Adoption Ambassador program. The Adoption Ambassadors program gives adoptable animals a better chance at finding homes by engaging folks as adoption counselors and foster parents at the same time. It lets adopters get more detailed information about an animal's behavior in a home environment and improves quality of life while awaiting adoption. Of course, we will continue to have our more "traditional" foster parents and hope that more folks will join us in that so critical role. Fosters are needed badly to help save lives and we can find the perfect fit for anyone who is interested! Give Bobbie a call if you would like more information or would like to be a part of this program.